Medical Extrusion Technology
One Medical Extrusions technical and engineering expertise provides with the skills to extrude a wide range of materials, diameters, thickness, and tolerances.  This allows us to offer a custom extrusion solution specific to your extrusion requirements.
We offer a comprehensive range of extrusion processes including the following:
Single Lumen
Multi-Lumen
Profile Tubing
Multi-Layer
Thin Wall Tubing
Co-Extrusion
Balloon Tubing
Spooled
Over Core
Taper (Bump)
Single Lumen & Microbore
Diameters ranging from 0.003" to 0.450" & tolerance for most polymers and sizes: ± 0.0003″
Wall thickness ranging from 0.0005" to 0.035″ & tolerance for most polymers and sizes: ±0.0003″
Tolerances may vary depending on the durometer, material, and size of the extrusion
Discrete lengths or spools available
In-house die design and fabrication
Internal annealing advanced measurement systems
Critical visual inspection for implantable extrusions
Multi-Lumen Tubing
Our team will work with you to develop and produce customized multi-lumen tubing to meet your specific requirements such as lumen geometry, material, and lumen rating. All extrusion tools required are designed in-house by our core design team. Our multi-lumen tubing is often used in demanding applications such as minimally invasive surgery where lumens allow multiple functions or instruments to be placed within a limited space.
Our multi-lumen tubing allows you to achieve the best possible flow rates and customizable configurations are unlimited. Your final configuration will be specific to your needs, and all aspects will be kept confidential for each customer.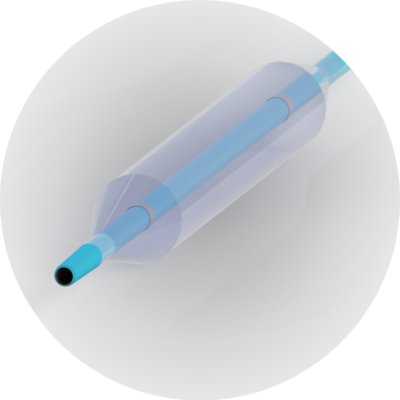 Balloon Tubing
In order to manufacture high-quality balloons, you must start with high-quality balloon tubing. We produce tubing with consistent wall thickness and excellent concentricity. Plus, we have the extrusion expertise to hold tight tolerances and control mechanical properties, such as elongation.
Materials:
Grilamid® and Vestamid®
Thermoplastic elastomers, such as Pebax®
Thermoplastic Urethanes, such as Pellethane®
Size Range:
OD ranges from 0.2mm (.007") to 11.43 mm (.450") and tolerances as low as +/-0.0127mm (0.0005").
Concentricity: >90% depending on size
Multi-Layer (Co-extrusion & Trilayer) Tubing
A tri-layer extrusion is a single-lumen tube comprised of three discrete layers. Our team designs and manufactures a wide range of three-layer material combinations. These combinations can include, but are not limited to:
Pebax
Polyurethane
Polyethylene
Tie-Layer Material
Blends
Multi-layered medical tubing
Tri-layer structure allows the extrusion to have unique characteristics throughout the tube:
Lubricious ID: Inner layer material having a low coefficient of friction
Lubricious OD: Outer layer material having a low coefficient of friction
Physical Properties: Layer Materials can be tailored to increase burst strength, decrease elongation or improve tensile strength.
Bendability: Outer layer material that allows for bonding to other polymeric materials or Ink.
Tri-Layer: Tri-layer tubing provides two non-compatible materials with the ability to bond together.
Encapsulation: Encapsulate a radiopaque or filled resin between two unfilled resin layers.
Tri-Layer Bump Tubing: Allows two individual outer and inner diameters within the same tubing.
OD sizes typically range from 0.4mm to 4mm.
Typical tolerance +/- 0.015mm. As material changes so can tolerances.
Typical testing: Tensile, elongation, burst pressure, wall measurement, and delamination are all available on-site.
Solid Rod/Mandrel Extrusions
Solid rod thermoplastic extrusions are used as mandrels to assist in the reprocessing of catheters, as push rods, and to deploy implantable devices in catheter shafts, among other applications.
We can produce custom solid plastic rod extrusions in numerous configurations, including crescent or half-moon shapes, tapered plastic mandrels, and square profiles. We can manufacture solid plastic rod extrusions from a wide range of materials, including HDPE, Nylon, and other high-lubricity thermoplastics that aid in the removal of plastic mandrel devices.